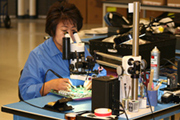 Betatron is ready to help you convert your idea or design into proof of concept assemblies that can rapidly migrate into full-scale production. We use all our resources in prototyping projects. This allows us to streamline the build process and generate prototype assemblies for you in as little as 24 hours.
Immediate Feedback Improves Design
All of the Betatron Team is trained to produce prototypes with a sense of urgency. We work directly with the your engineers on your project to provide timely feedback regarding manufacturability and testability. This valuable information is used to guide design changes that can lower production costs, improve quality and enhance performance.
The Betatron Team utilizes all our sophisticated tools and equipment to aid in the rapid and accurate assembly of product prototypes. Zero-defect assembly allows your engineers to focus on issues related to design rather than workmanship.
Our extensive experience in printed circuit board assembly and our collaborative approach to working with the board designer enables us to streamline prototype development dramatically reducing "built in" issues and consistently resulting in high yield assemblies….FAST!
Prototype Services at a Glance
Quick Turn Complex SMT Board Capabilities
Complex PCBs / BGA Assemblies
Double-Sided, Dense, High Value Parts Counts
Consigned,Turnkey or Managed Customer Account Material Management
Critical Feedback for Future Production Builds Leveraging Betatron's extensive DFM, DFT and DFR Expertise and Experience:

Manufacturability of Design- The question of whether a design will work has haunted many designers. Our engineers will perform a thorough analysis of your design plan and supply a report on any critical manufacturing challenges as well as possible workarounds to successfully manufacture your design.
Testability of Design-Successful and thorough testing can be a time consuming portion of the prototyping process. Our engineers will perform a testability analysis of your design to ensure that the structure of your board enables the most efficient, least time-consuming testing possible.
Rework- It is wise to consider the possibility of Rework in configuring a PCB for that time when high production runs may result in the need to rework dense boards. This is especially important when High Value Components are included in the design.
The Benefits To You
Rapid Time to Market or Project Completion
Reduced Production Costs, Improved Quality and Optimum Product Performance
Close Collaboration Between Your Engineers and Our Prototype Team
Full Access to Betatron State-of-the-Art Equipment and Expertise
Betatron Quality and Workmanship